Jack's Eleventy-First Hobbit-Style Birthday Bash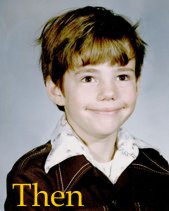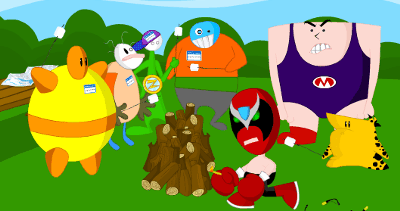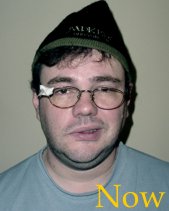 General Information Directions Festivities Accommodations Nearby Attractions Transportation Gift Registration RSVP
General Information
What: Jack Barker's "Eleventy-First" Hobbit-Style Birthday Bash!
When: June 17–19, 2005. Festivities start at 5:00 PM on Friday and continue until noon on Sunday! Three days and two nights o' fun!
Where: Where else? Governor Dodge State Park (Group Camp Site H); Dodgeville, Wisconsin. See below for directions.
Why: I was too late to reserve the camp site last year for my 40th birthday, so I decided, better late than never, we'll celebrate the 41st instead (and call it the "eleventy-first" in true Tolkien-geek style)!
Who: Pretty much everyone I know is invited! The more the merrier! If there's someone you think I've forgotten, just let me know their e-mail address, and I'll invite 'em! Kids are welcome, too, but if they make too much noise too early in the morning, I reserve the right to smack 'em around a bit. That goes for pets, too.
How: You are welcome to camp out in the park for the weekend. If you don't want to sleep in a tent, there are several hotels nearby! See below for details.
Plea: This will be a fun, exciting weekend for everyone who attends! And with this much warning, I'm hoping that lots of friends and family from out-of-town will be able to attend!
This just in! I read online today that the new Batman movie, Batman Begins, has moved its start date from June 17 to June 15. So you'll be able to see Batman a full two days before my party! So no "I can't come to the party, I'm going to see Batman" excuses!
Directions
Directions to the Park from Madison can be found here. And just added, directions from Minneapolis/St. Paul are also now online. If you need directions from somewhere else, click here to go to Yahoo Driving Directions. Once there, enter your starting location in the starting address fields, enter the park's address (4175 State Road 23, Dodgeville, WI 53533) into the destination, and click "Get Directions." That should get you to the park entrance, then follow the map below to get to the Hickory Ridge camping area and Group Camp Site H (aka. the Mt. Doom camp site) therein.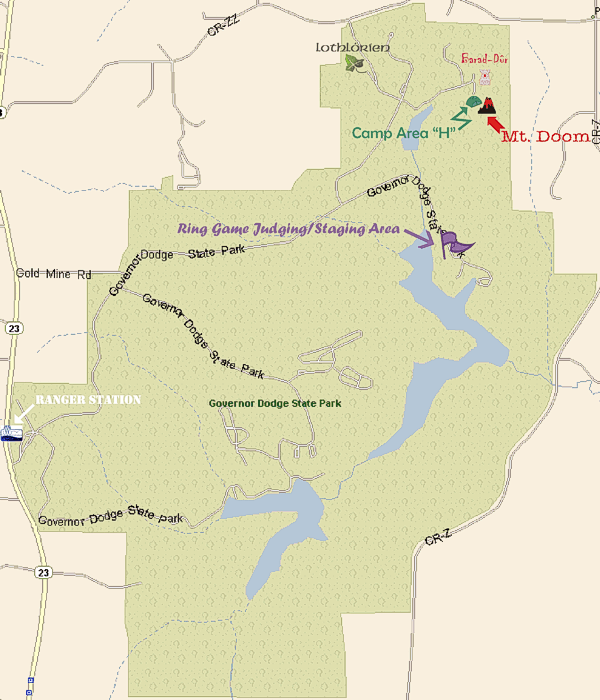 Click here for printer-friendly version.
Festivities
There is not going to be any strict schedule of events to be followed, nor is everyone who attends expected to do... anything. If you just want to come to the park and relax, hang out, and roast a few Peeps, that's fine. But for those who are interested, here are some things that may or may not take place:
Hiking. Time permitting, I will be leading a guided tour of the park for those non-Ring Game folks who have never been there before. Of course, Ring Gamers will not be prohibited from tagging along. Depending on how vigorous we're feeling, we may even stray outside of the game boundaries to visit Thomas Cave and/or the Deer Cove Rock Shelter and/or Stephens' Falls.

Swimming. Swimming beaches are located on both lakes. Bathhouses are found near both beaches. The beaches are open from 6:00 AM to 11:00 PM. No lifeguards are on duty, so be sure to bring a "buddy!"

Boating. Canoes and rowboats can be rented from the park. I've never done so (therefore, I have no idea how much it costs), but that doesn't mean I don't think it would be a giggle to do so.

Fishing. Fishing is allowed in both lakes, although you will need to have a valid Wisconsin Fishing License. These can be obtained in local bait shops around Dodgeville. Species include bass, walleye, muskie, and panfish. I endorse "catch and release."

Horseback Riding. If you have a horse, and you want to bring it, you can. You'll have to pay a trail fee when you arrive at the park, and the horses will not be allowed to stay at the camp site overnight (not my rule, the park's rule). If you don't have a horse and still feel like taking a ride, there is a ranch nearby that offers trail rides that (I think) include areas of the park. I can find out more information if anyone's interested.

Bicycling. Off-road cycling is allowed on designated trails in the park, but like horseback riding, a trail pass is required.

Music. If you're a musician (amateur or professional, I don't mind), feel free to bring your instrument and we'll see if we can get an impromptu "jam" going around the campfire. I used to suggest this for Ring Game campouts, but noone ever brought anything, so I gave up. But I'm trying again for the birthday bash, dangnabit!

Eating/Drinking. I'll be providing some food and beverages (hot dogs, buns, and other campy sorts of things; I'll even try to have a few things to accommodate vegetarians!). If there's something special that you'd like, feel free to bring it along. Please be aware that alcohol is not allowed in the park.†
If you don't want to spend the whole weekend in the park, that's cool. If you can only come for a little while, that's great (Saturday afternoon/evening/night will probably be the biggest "party hearty" time, with Friday night a close second). And even though the camp site is reserved until 3:00 PM on Sunday, I expect most people will be clearing out by about noon, since that's Father's Day, and they'll probably want to go spend some time with their dad. With luck, my dad will be there already!
Accommodations
I realize that everyone I've invited may not want to camp out at the park. However, this is no excuse for not attending, as there are a number of alternatives for accommodations nearby. The camp site at the park is paid for; anything else, you're on your own. Here is the 4-1-1 for camping, as well as some of the alternatives (the info is taken from the Dodgeville Chamber of Commerce web site):
If none of these strike your fancy (or if they have no vacancies), there are others listed here. I can't speak to their proximity to the park, tho.
Nearby Attractions
If hanging out at the park with me just isn't enough to entice you to come to the party, here are some other things that can be found nearby:
The House on the Rock: If the weather is not cooperating, an indoors alternative is to tour the world-famous House on the Rock, which is just a couple of miles up the road from the park. Click here to visit their web site, but really, it has to be experienced to be understood. Incidentally, The House on the Rock is featured in Neil Gaiman's novel, "American Gods," and was also the setting for a music video by the music group, 10,000 Maniacs.

Miniature Golf. There is a miniature golf course about halfway between the park and Dodgeville. If it's open, and people are interested, a round of mini-golf can certainly be arranged.

Actual Golf. I know of at least one golf course (The House on the Rock Resort, actually) in the Dodgeville area, there certainly may be more. If enough people are interested, I can certainly do some research and post the results here.

Bowling. There is a bowling alley in Dodgeville (Joe and I played a few games there once); another rainy-day option.

Taliesin. Frank Lloyd Wright's estate in Spring Green, Wisconsin, is regarded as an eminent example of Wright's vision of Organic Architecture, and encompasses work from every decade and phase of his career. Not to be confused with The House on the Rock. Click here for more information.

Cave of the Mounds. This is a bit further of a drive from the park, but is still a viable option for those interested in spelunking. I haven't been there in many years (since the late 80's, actually), but I remember it being good for a couple hours' distraction. Bring a windbreaker, tho, it gets chilly in there!
Other Dodgeville-area attractions, including something called the "Dodge Mining Camp Cabin," are listed here.
Transportation
Attention Madison party-goers! As the RSVPs start to come in, I may find myself with out-of-town friends and relatives who will need a ride from the airport to the park and back. If you are willing to offer a ride, please e-mail me and let me know how many people you can accommodate. Thanks in advance!
If you are flying in from out of town, you should plan to fly into and out of Dane County Regional Airport. I'll do what I can to get you a ride from there to the park and back, but if you'd rather just rent a car, there are several rent-a-car agents available right at the Dane County airport:
| | | |
| --- | --- | --- |
| Enterprise | (608) 661-4900 | (800) 325-8007 |
| AVIS | (608) 242-2442 | (800) 831-2847 |
| Hertz | (608) 241-3803 | (800) 654-3131 |
| National/Alamo | (608) 249-1614 | (800) 227-7368 |
| Budget | (608) 249-5544 | (800) 527-0700 |
| Thrifty | (608) 661-4940 | (800) 800-4000 |
| Dollar | (608) 661-4941 | (800) 847-4389 |
Gift Registration
First of all, let me make one thing perfectly clear: gifts are not expected or required. "Your presence is my present," as the saying goes. In fact, in true hobbit style, I'm hoping to hand out some "mathoms" to my guests, rather than vice-versa. However, I realize that there are some people who feel an obligation to bring a gift to a birthday party. To help those people out, I've set up gift registries at GANDER MOUNTAIN and TARGET for equipment that I'll need for my trip to Burning Man, August 29–September 5. Click here to visit the Burning Man web site! Oh, and click here if you are interested in bidding on any eBay items that I'm auctioning to help raise funds to go to Burning Man.
The gal at Gander Mountain didn't realize that the form had both a "gift" registry and a "wedding" registry, so you may have to ask for the "wedding" registry at Gander Mountain. I filled out the form at the Madison East location, and they supposedly will FAX it to Madison West, as well as several GM locations in the Twin Cities. Let me know if you have any trouble with it, and I'll go kick their butts.
The good news at Target is that the registry is electronic; the bad news is... I could only choose between wedding and baby, and I picked baby. *sigh* So, if you're going to Target, select the Baby Registry, and search for my name as the "father," with the "expected date" as June 20, 2005, and you should find me. The Target registry is even online (click here).
This is all part of the Great Anti-Bachelor Conspiracy, I tells ya. Oh, and thank you to Adam, who went along with me and helped me figure out which items to put on the list!
But really, you don't need to get me anything. Just come to my party.
RSVP
I'm using "evite.com" to keep track of RSVPs. Click on this link, and it should take you to a page where you can RSVP. Or maybe it won't, I'm not sure. Let me know if it gives you any trouble.
evite.com's a little more complicated than just telling me, "hey, I'm going to be there," but I'm inviting so many people that there's no way I'm going to be able to keep track of it all myself. So I thank you in advance for your cooperation.
Oh, and I apologize in advance for all the ads on evite.com, but it's a necessary evil. Sorry.
To contact Jack: E-mail: jackbarker@charter.net; Phone: (608) 234-0291; Snail Mail: PO Box 260031; Madison, WI 53726-0031.
Last update: May 13, 2005.
†Enforcement of this rule by the park rangers may vary. I'm hereby disavowing all responsibility for any enforcement of the "no alcohol" policy. Don't say I didn't warn you.